Image Page on Thailand
Include pictures, and at least one panorama image, and a webcam image from two different times.
Outline
Landscapes
Chaing

Rai Hills

Koh Samui Beach

Rice Patty Fields

Red Lotus Sea
Cities
Kanchanaburi

Chanthaburi

Bangkok

Krabi Town

Pattaya Live Cam
Landmarks
Images of People
Surin

Elephant Roundup

Karen mom

Vegetarian Festival

Monk alms ceremony
Images from the book
1 Landscapes
<![if !vml]>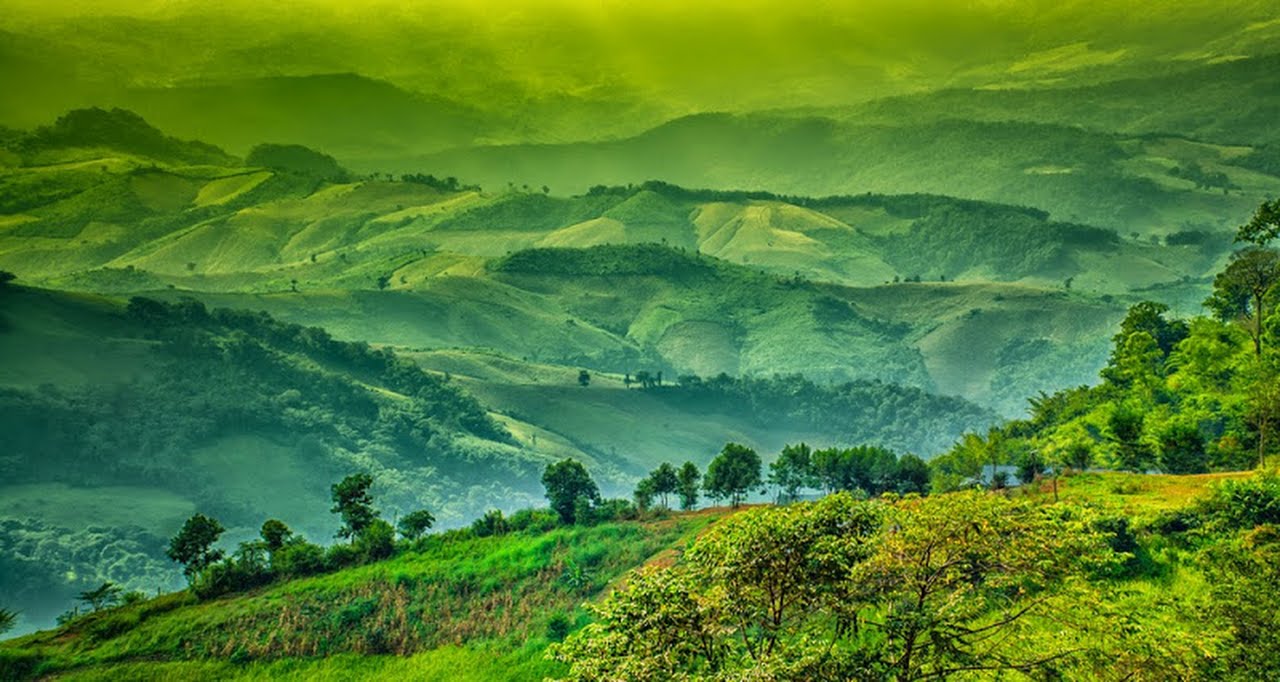 <![endif]>
Chiang Rai is the northern most province in Thailand, bordering Myanmar and Laos. Chiang Hai is also known as Jiang Hai.  The scenic hillsides are popular for guided cycle tours. The tours stops at the White temple, traditional Thai villages, and the Khun Kon (the highest waterfall in Chaing Rai). Chaing Rai is also popular for its "Golden Triangle" tour. The tour is on Mekong River, where Thailand, Myanmar, and Laos meet. The boat ride includes a stop on Laos and you can actually set foot in Laos. The best season to visit is in the dry season, from November to February.
https://storage.googleapis.com/images.lookiwasthere.com/thailand/travel-guide/where-to-visit/what-makes-thailand-so-amazing/chiang-rai-landscape-thailand.jpg
<![if !vml]>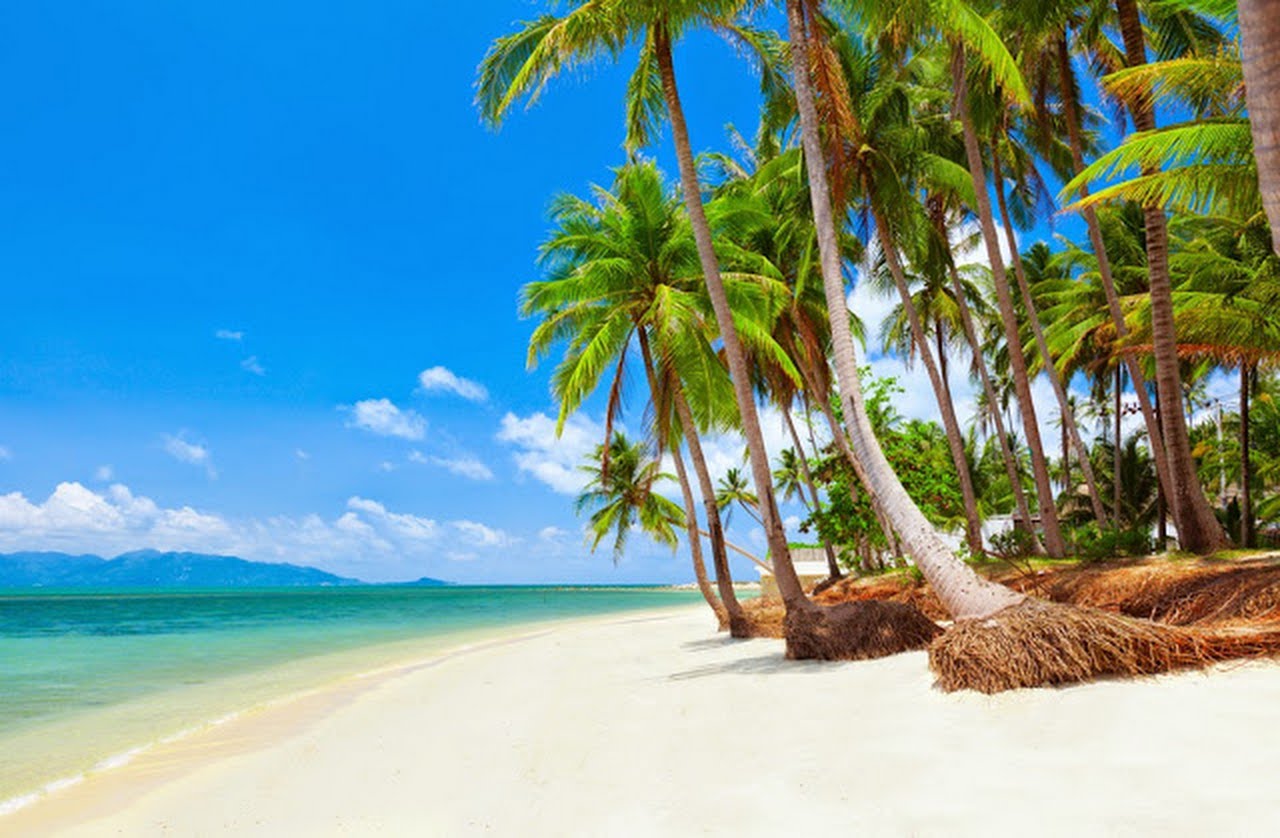 <![endif]>
Koh Samui, Koh Phangan, and Koh Tao are the place to visit for a secluded island experience. Koh Samui is a resort island, known for a good balance between party and relaxation. Koh Samui will give you less of a traditional Thailand experience than other places, as the island is a giant tourist trap.. Koh Phangan is where famous monthly Full moon parties are held. The full moon party was created by tourist, for tourists. The prices will be gouged on everything during full moon week.  Koh Tao is the smallest of the three. Koh Tao stands for "turtle Island" and is the best destination in Thailand for scuba diving.
https://storage.googleapis.com/images.lookiwasthere.com/thailand/travel-guide/where-to-visit/what-makes-thailand-so-amazing/koh-samui-tropical-beach-thailand.jpg
<![if !vml]>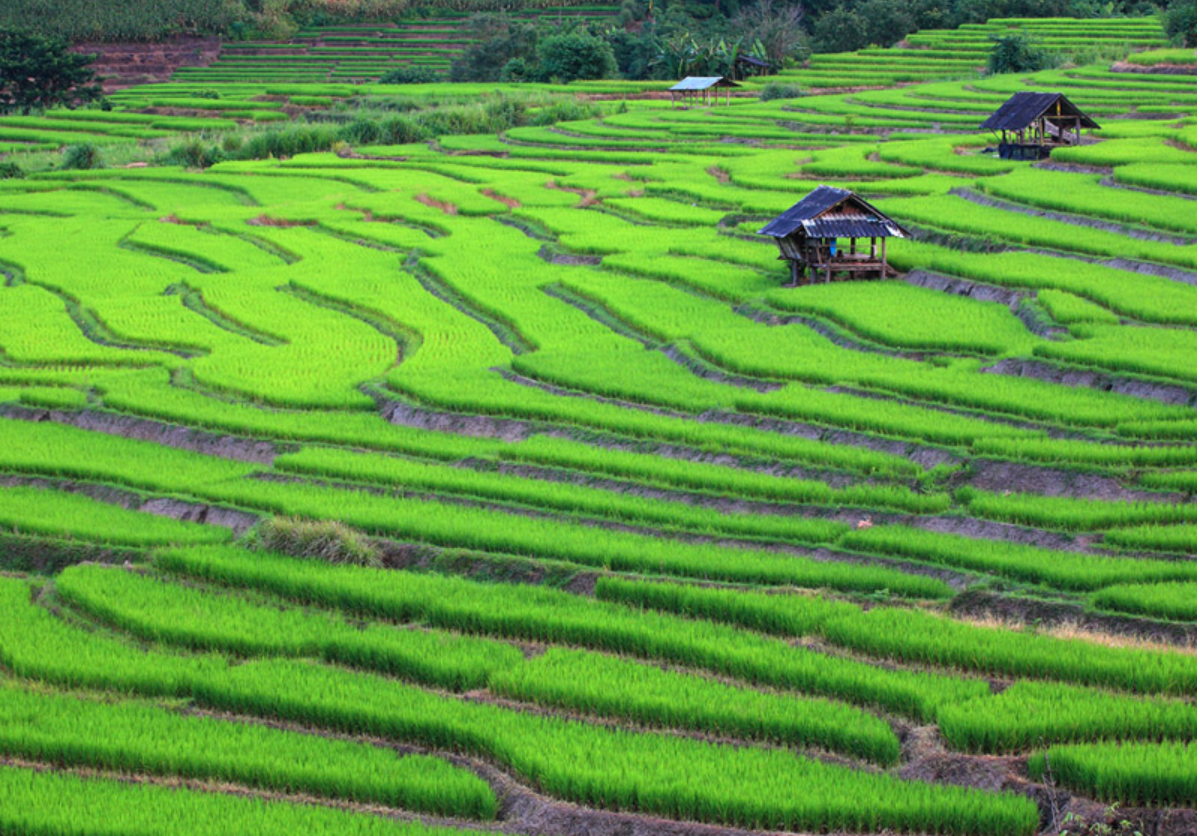 <![endif]>
https://www.oddizzi.com/wp-content/uploads/2012/06/img-thailand-paddyfields.jpg
One of Thailand's many beauties are their rice paddy fields. Central Thailand is often described as 'the rice bowl of Asia' because of their massive areas of rice fields. Thailand's fields are worked by hand, not machinery. The rice paddies can cause big landslides during the rainy season. Thailand is also home to many rubber plantations. They are the second biggest exporters or rice. However, rice farming in Thailand is threatened because rice production is becoming more competitive around the world, and modernization in Thailand has led to increased labor costs, and over cultivation of the land.
<![if !vml]>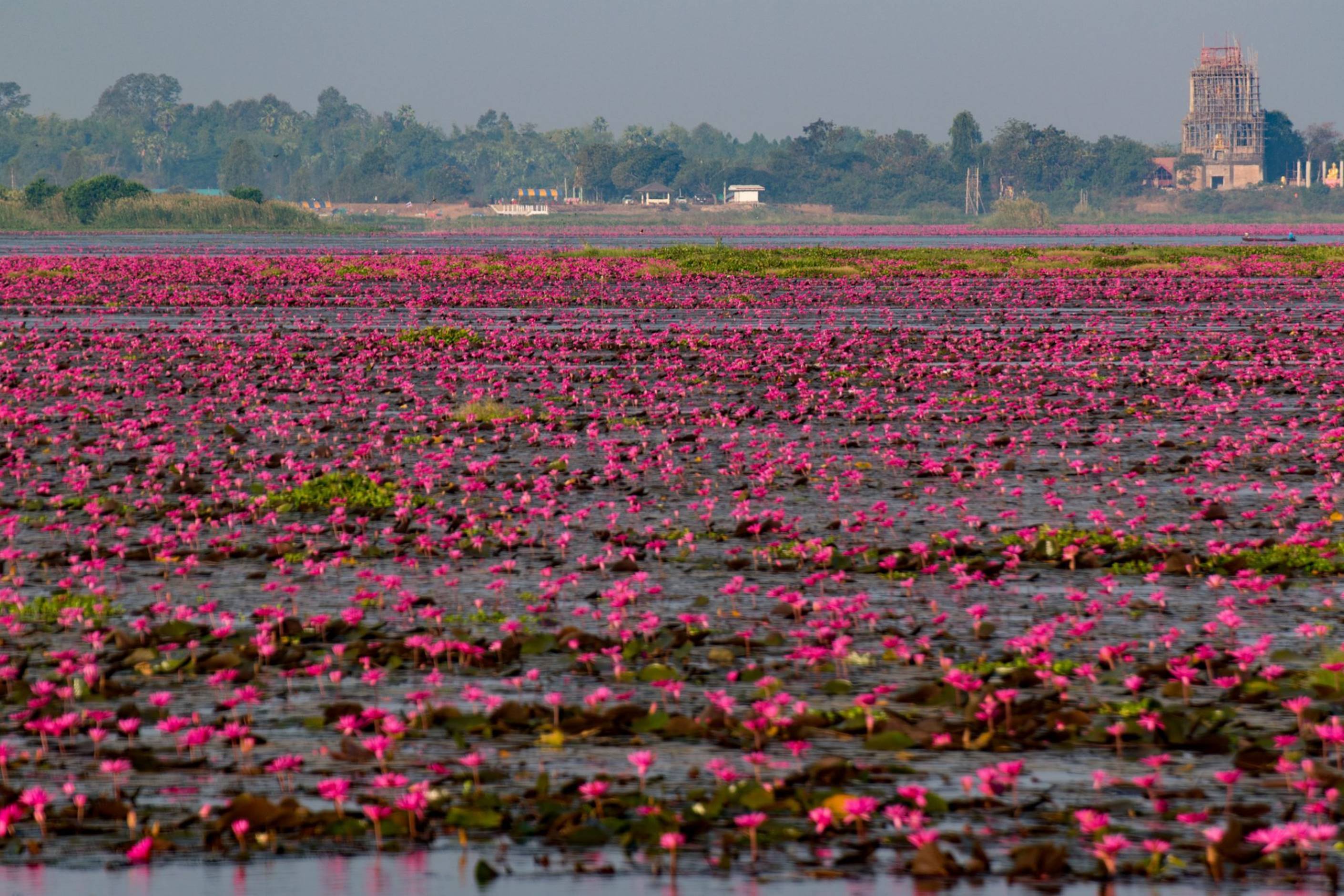 <![endif]>
The sea of red lotus at Nong Han Lake National Park, Udon Thani, is in bloom from mid-December to February and cover the surface of the freshwater lake. Tourists can take a big boat or a private canoe on the lake. The best views are before 11am when they are fully opened. Lotuses are rooted at the bottom of the ocean and grow to 1.5 meters. In January there is a red lotus sea festival. The lotus flower is a sacred symbol of Buddhism, Thailand's biggest religion. The flower represents enlightenment. Its roots are in muddy water but the flower rises above the mud to bloom clean and fragrant.
https://lonelyplanetwpnews.imgix.net/2017/12/GettyImages-635675346-e1513353116227.jpg 
2 Cities
<![if !vml]><![endif]>
Kanchanaburi

is known for its bridge over

Kwai

River. The town bridge is part of the "death railway", a railway through the town that brought so many to their death in WW2. It was built by the Japanese empire to support the forces of the Burma campaign. The working conditions were awful. Workers didn't have the proper tools, were malnourished and dehydrated. Over 100,000 died in just the construction of the bridge. There is a saying that one person died for every wooden track on the bridge. Once the war was over, immediately the railway was begun to be taken apart and sold for parts.

 

There are museums and memorials in Kanchanaburi for remembrance and to pay respects.
Pictured is the Cathedral of the Immaculate Conception. It is a gothic style cathedral in

Chanthaburi

. The cathedral is known for its artwork and as a place to worship. The catholic church has a big following including people from Thailand, Vietnam and the Philippines.

Chanthaburi

is also a popular place to visit for nature lovers. It lies on the banks of the

Chanthaburi

river.

 

From here you can head to

Namtokphlio

National Park or to take a hike to the waterfalls and rainforest surrounding the town.

Chanthaburi

is also a center for gemstone mining.

Chanthaburi

is close to Bangkok, making it a day visit for people staying in Bangkok.
Bangkok is Thailand's capital and most dominant city. It is the only modernized city in Thailand, the rest of the country is small villages and towns.

 

Bangkok is located on the Chao Phraya River, one of Southern Asia's most important rivers. Bangkok is well known for their ancient palaces, Buddhist temples and statues, and their night life. Bangkok is also known as known as Krung

Thep

and is called this by most locals. Krung

Thep

means the "City of Angels".

Its

called this because its believed that this is where the immortal divinity dwells, and is thought to be an invincible city. It is thought to be where the reincarnated angles reside.
Krabi town is one of the

lessor

developed beach cities in Thailand. It is one of the greenest and more natural of Thailand's beach destinations. However, Krabi has limited tourist-available beaches on the

mainland, but

has many stunningly beautiful islands off shore available to reach by boat. Most of these Islands are national parks, meaning they are uninhibited and kept in good condition. Krabi Town, however, doesn't have much regulation for zoning, and the town is beginning to see much of its natural habitat torn down to build for tourist. Krabi town was once known for being a place to visit to get away from the tourism and see more regular Thai life, but has become increasingly a tourist city. Krabi is well known for its amazing sunset views. <![if !vml]><![endif]>
Pattaya is on the east coast of Thailand and is known for its miles of beaches. Pattaya was a small fishing village before it became commercialized and lined with resorts, condos, golf courses, and shopping malls. Pattaya is becoming a popular retiree destination and Thailand has special visas for people over 50 looking to retire there. Pattaya has a controversial reputation for being dangerous. However, most people who get into these situations are out looking for trouble. If you don't walk around alone late at night belligerently drunk or go out looking for drugs you should be safe. It's always important to stay alert and be thinking smart while traveling in anyplace. Remember this and you shouldn't have any troubles in Pattaya.

 
3 Landmarks
This iconic image was taken at Wat Mahathat in Ayutthaya. The Buddha head entwined in the tree roots is one of Thailand's most famous spots. Nobody knows for certain how the Buddha head got there, but one theory is that tree grew around it while the city was abandoned after the Burmese invaded and chopped off the heads of the Buddha statues in the temple. Another theory is a thief stole it from the temple and went to hide it. It is important to remember when visiting that the head is sacred, and photos of the statue should be taken from a kneeling position.
<![if !vml]>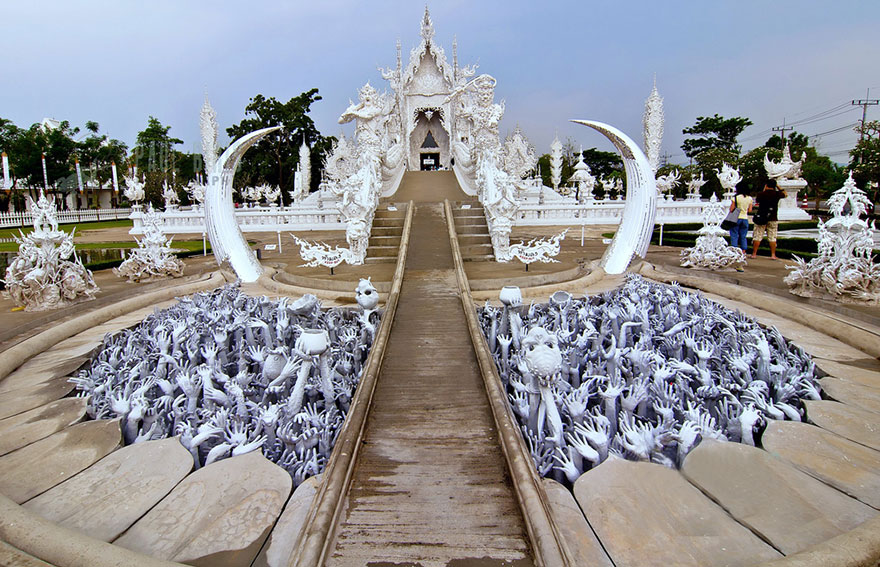 <![endif]>
Thailand's white temple, Wat Rong Khun, is one of the 33,000+ Buddhist temples in Thailand. It was built in Chiang Rai in 1997. The all white exterior represents Buddhas purity and is embedded with mirror fragments to reflect wisdom. The bridge to the entrance features arms reaching out from hell. The symbolism behind this is that to enter (heaven) you must overcome hell and cross the bridge of suffering, untamed desire, and greed that reaches for you. Inside the temple there are murals of fire and demon faces inspired by western idols, such as Michael Jackson and Freddy Kruger. There are images of nuclear warfare, terrorist attacks, and oil pumps. This is to drive home the message that humans are wicked.
  <![if !vml]>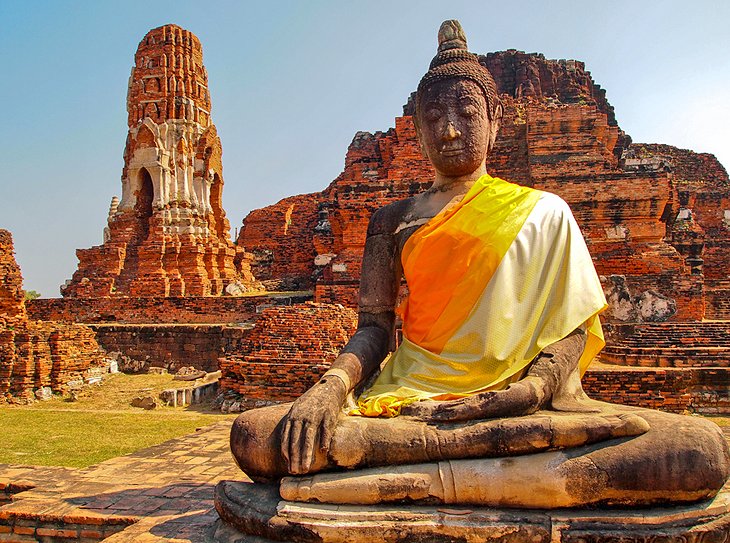 <![endif]>
The city of Ayutthaya was the former capital of Thailand and was destroyed by the Burmese in 1767. Inhabitants were forced to flee, and the city lay ruined and abandoned for many years. Restoration started in the 1960's and since then it has become a historical national park where some of the temples and many Buddha statues have been restored. Some statues and buildings have been left headless and ruined for contrast. Wat Mahathat is located at the heart of the city, where you can find the rebuilt Buddhas are dressed in a yellow robe. Yellow denotes stability and grounded nature.
4 Images of People
Thailand is home to multiple floating markets. Locals bring their crops and other goods to trade.  https://kids.nationalgeographic.com/content/dam/kids/photos/Countries/Q-Z/thailand-floating-market.adapt.945.1.jpg
<![if !vml]>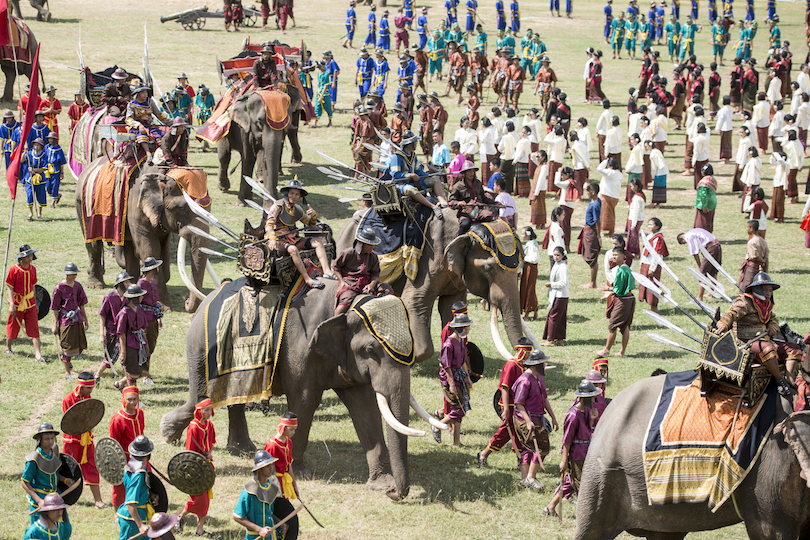 <![endif]>
Surin hosts a yearly Elephant Roundup cultural festival where elephants and mahouts (elephant trainers) hit the streets to show off their tricks. They play soccer, tug of war, and act out battle reenactments, among other things. The festival lasts 10 days in November, but the main events go on during the first weekends at See Na Rong provincial stadium. The elaborate "battle" displays what warfare looked like when elephants were used rather than tanks. Hundreds of foot soldiers pretend to fight like the old days as well. The festival takes hundreds of people to put on, and attracts thousands of locals and tourists.  
<![if !vml]>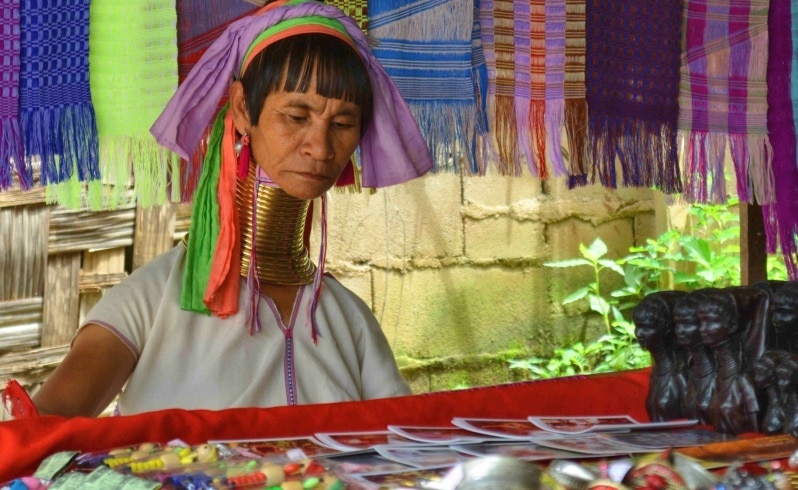 <![endif]>
Karen people in norther Thailand are seeing a collision between technology and tradition. Sitting in a table behind souvenirs, this Karen woman in northern Thailand looks down at her phone (denoted by the photographer Ronan O' Connell). She is wearing brass rings (very heavy) around her elongated neck. It is tradition for women start wearing these at a young age of about 5 or 6 to elongate their necks, but many young Karen women see the tradition as isolating and embarrassing and are no longer pressured to adopt it, so few choose to do so. Some compromise by wearing lightweight plastic rings around their neck solely to amuse tourists, who pay to enter the village and see the tribe.
During the Phuket Vegetarian Festival, participants follow a strict vegan diet to cleanse the body, banish evil, and gain good fortune. However, the festival isn't widely known because of their selection of vegetables. During the festival some also participate in extreme body piercings through the check and out the mouth to show strength and purify the body. Guns, shovels, car rims, and serrated blades are among some of the items used. They believe suffering brings luck and is for the common good of the community. The festival lasts nine days and includes other rituals such as fire walking and climbing ladders of razor-sharp blades. These devotees ask their Gods to enter and possess their body during the events and claim to feel little pain and have little to no scarring afterwards.
At the Wat

Phra

Dhammakaya

temple Buddhist monks pray during an alms-offering ceremony. The

Dhammakaya

is the country's richest Buddhist temple. All Thai men must become a Buddhist monk for some period before they turn 20. During this time, they must follow strict rules such as shaving head and eyebrows, wearing orange robe, engaging in numerous ceremonies, not swimming for fun, and receiving daily duties. While in public, monks are expected to not laugh or speak loudly.

 

There are typically around 300,000 monks in Thailand at any given time. Many non-practicing Thai's start their day by giving offerings to monks, and many will give up their seat on public transportation for monks.
5 Images from the Book
<![if !vml]><![endif]>
<![if !vml]><![endif]>
These are screenshots from my Lonely Planet Thailand eBook, showing both the picture and caption.
Submitted by Taylor Kocina on 3/29/18.