---
Ground Transportation for Thailand
Options for traveling within Thailand for a 21-day period
---
Outline
Car

Train / Bus / Air

Other Options

Estimate of total ground travel expenses
---
Car
Renting a car in Thailand is very common and affordable. Its not the best means for Bangkok, but for other rural areas is a great option. The best and cheapest options come from the airport. https://worldtravelfamily.com/hiring-a-car-in-thailand-car-rental-driving-in-thiland/ recommends "reducing the excess to 0" aka credit card insurance because Thailand is the second worst place for road fatality in the world. They drive on the left hand side, but besides that traffic rules are pretty much the same. Renting a car will get you to see the parts of Thailand that any don't, which is an important aspect of traveling to me. It also can be cheaper than buying bus passes if in a group. Based off this information I went ahead and rented it for all 21 days from Bangkok.
<![if !vml]>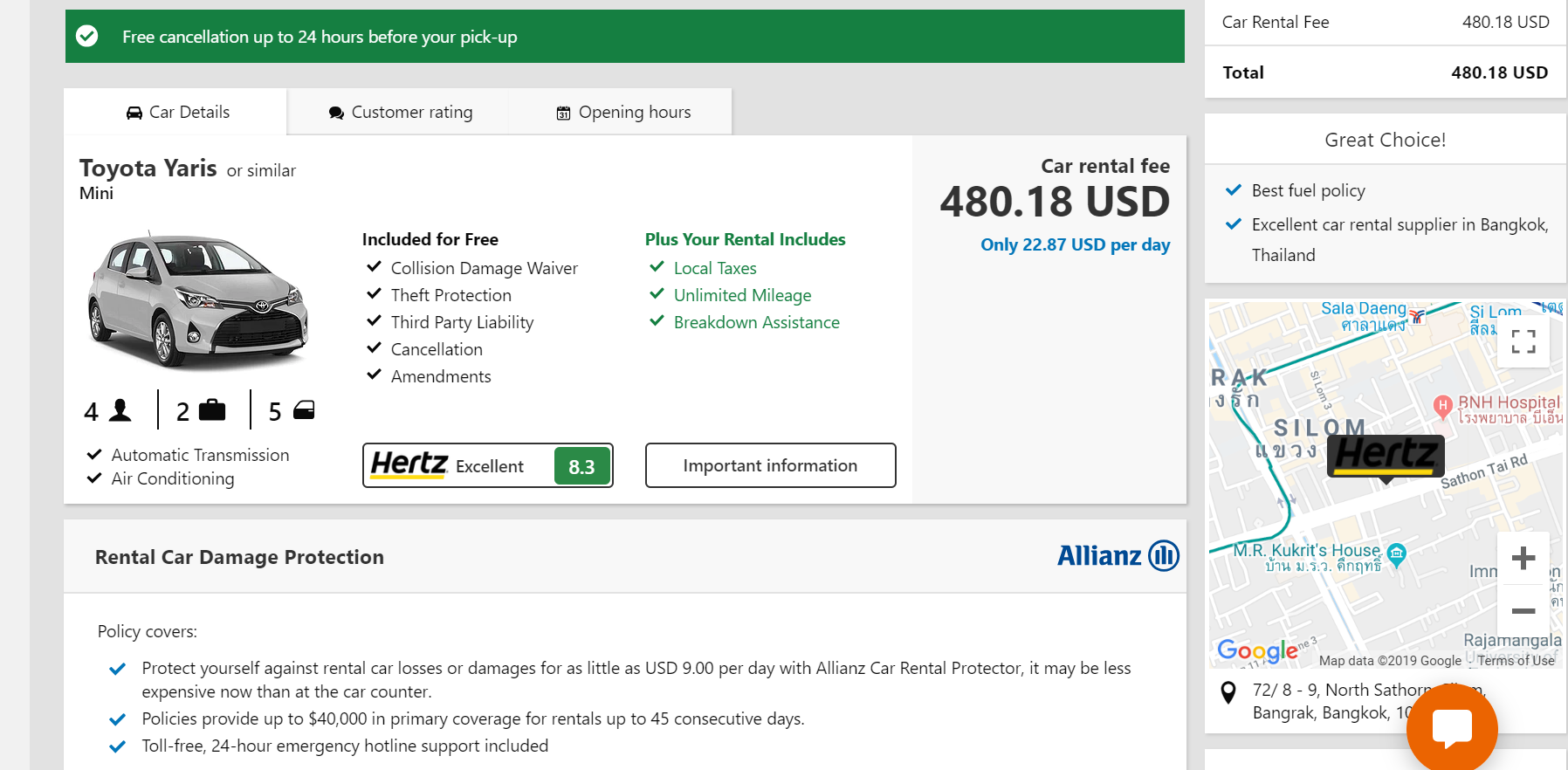 <![endif]>
Train / Bus / Air
My mass transit options are... Flights, Bus, and Train.
Air flights across Thailand are relatively cheap, they cost about the same as bus passes and train tickets, around 25$ per person. I found a flight from Bangkok to Chiang Hai as low as 14$ person. The same flight also runs elsewhere for the same price. However these must be booked in advance, the price for today was double the price if booked in advance. Busses and trains are a little more expensive than a flight, but by taking an overnight train you could save a nights worth of hotel costs, which would make the sleeper train cheaper. Ive included graphics for both a train ticket for 2 and a flight for 2.
<![if !vml]>

<![endif]>
<![if !vml]>

<![endif]>
<![if !vml]><![endif]>
Other options
Tuk Tuks are huge in Thailand. This is where they originated from. Tuk Tuks can be rented, or you can be driven around in one taxi style. A short taxi syle tuk-tuk ride can cost about $1. However negotiation is very important here because they will inflate the rate if they know you're a traveler. It is suggested to start by negotiation 10-15 THB lower than they offered and go from there. You need to be wary of "mafia" tuk tuk drivers offering special knowledge of special places. They're scamming. If wanting to rent a TukTuk, I found Smiling Tuk Tuk rentals, which has prices are about as high as renting a car. It is very obviously geared at travelers and more expensive than need be. Also some ridiculous rules. I wouldn't suggest doing this, I'd just catch a ride every time you need one.
<![if !vml]>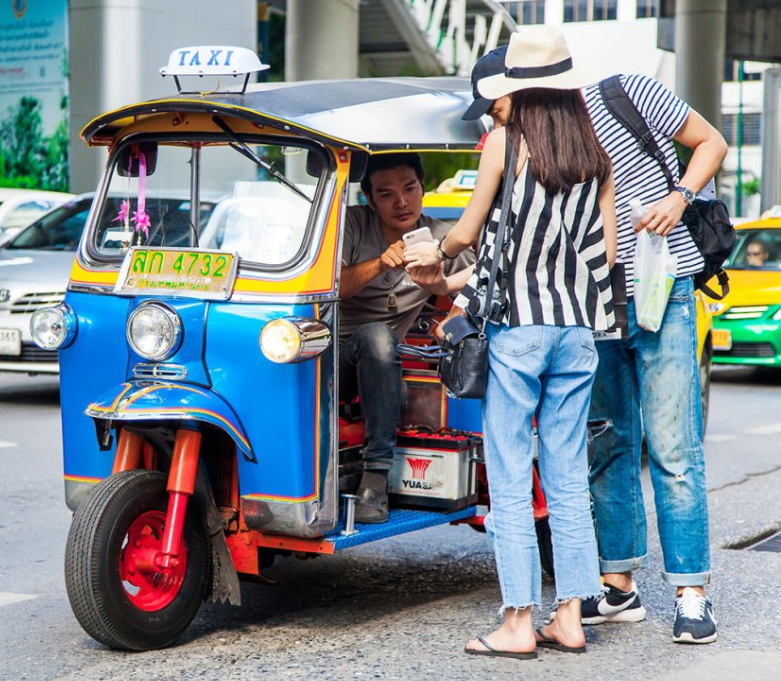 <![endif]>
<![if !vml]>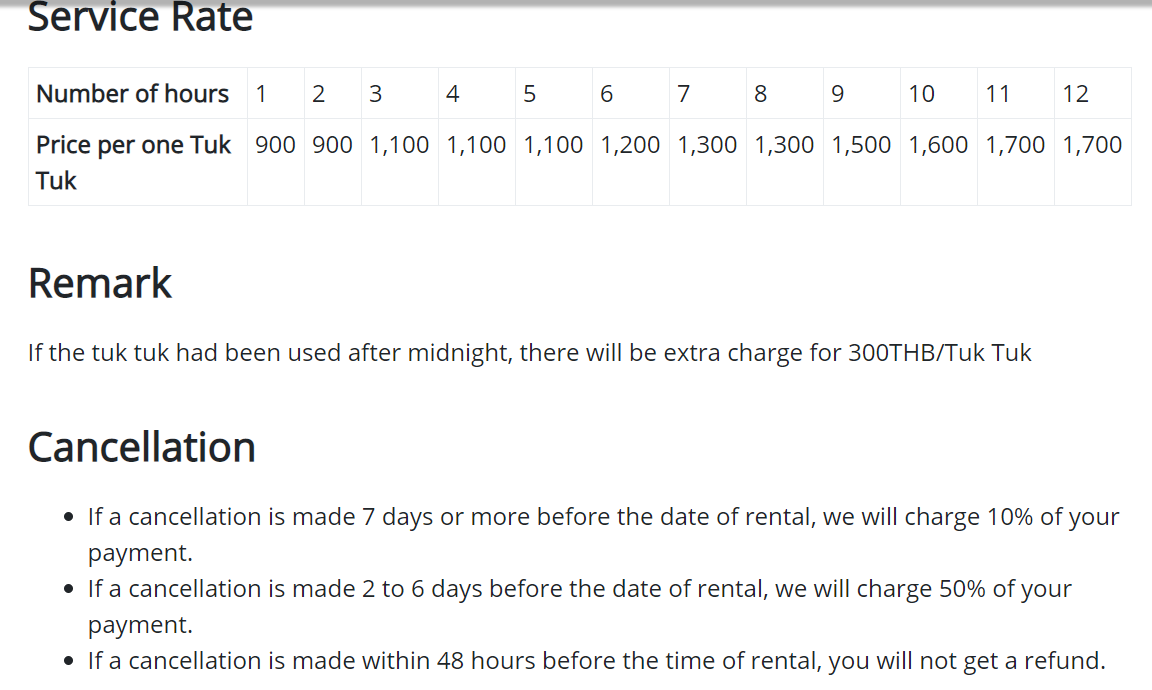 <![endif]>
Estimate of total ground travel expenses
The total cost of traveling within [Country/Region] for a
three week

period is...
If renting a car for the whole time, your total cost would be $480 plus gas. Gas is about 30 TB per

litre

. An

extimate

gas expense would be 3.7

litres

in a gallon. Gas get about 25 miles per gallon. I estimated about 700 miles of driving if planning to see north and south Thailand. 700/25=28 28*3.7= 103.6*30 = 3108

TB .

3108*.031(exchange rate) =93.24$ 480+93= $
573 for 3 weeks of travel within Thailand by rental car.
This cost could be split between 4 or 5 people if traveling in a

group, and

would be about $140 per person.
If not renting a car for the whole trip, you could use trains, railways, and

tuk

tuks

to get around. A flight costs 30 round trip per person.

A

overnight train costs 35$ per person each way, 70$ round trip. You could use those options to get from city to

city, and

use

tuk

tuk

taxis and cabs in the cities.

Cab fares are about 10TB per miles. This cost would vary based on how many places you want to go, but an estimate would be $30 flights + 10*100 miles = 10000TB*.031= 310 cab fares. 310+ 30=
$340 by flights and taxis.
---
Submitted by Taylor Kocina on 3/8/2019.